Some call it Defensive driving, others call it Advanced driving.
Objective is still the same, to allow the driver to get intimate with his ride, and understand how the car behaves during "emergency". Students go through drills to train themselves to react "instinctively" to incidence.
Briefing session for the day. Courses, meal time, and toilet location :p
Organised by
FootWorks
, the itinerary includes :
1)
Shalom
- you try to cruise zig zag through obstacles
2)
Emergency Brake
- understand what is ABS, and application
3)
E-brake and swerve
- try to avoid impending collision
4)
Handbrake Turn
- how to swing your car around, Fast!
5)
Reverse flick
(J turn) - opposite of HandBrake Turn
At Kranji Turf club, cars from all made and drive came for the full day course.
Navigate the Shalom at speed. You have minimum reaction time during swerving intervals!
Instructor show us how easy it is to execute a Handbrake turn. Just hard-right and pull up your handbrake
(sounds so simple right)
But how to do a Footbrake turn?

( some MPV comes with Footbrake, instead of Handbrake! )
Waiting in line. Ok, next.
Daddy found an old acquaintance with his GTI :)
Some people think advanced-driving means we want to drive faster and be reckless, because the
stunts
drills look dangerous! Daddy will recommend this course to friends for the following reasons :
-
to discover
our weak areas and brush up
-
to identify
bad driving techniques or seating postures which has been cultivated over years.
It is definitely not cool to press your chest 15cm from the steering wheel !
- different cars handle differently. Advanced Driving allows us
to understand
our cars better. Adrenaline is pumped up during drills, but we are all learning how to handle our cars better.
- most importantly, we
"feel"
how our car behaves during out-of-control situations. We can train our reflexes to react instinctively during an emergency!
-
that extra 1 or 2 seconds can save lives
!!
Topless action woohoo!
Are you ready for reverse flick?
Starlet and Forrester does it with gusto (read one wheel in the air!)
Sounds simple, just reverse till 50kmh and do a hard right turn. Your front and butt should have flick 180 degrees.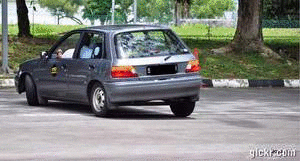 Suddenly it rains, but we shall carry on.
A little time trial. We are supposed to combine all the tricks we learn today.
Timing will be taken, to add to the pressure.
Video : how teacher does it
Video : How newbies does it
Video : Daddy had fun with screeching wheels and smelly rubber.
Shiok
!
The drive looks slow, but Daddy was sweating in the cabin, and there are no time to ponder over your mistakes :p
Now, when can Daddy parallel park in style?
For more information, do drop Chris an email --> niknat@singnet.com.sg
Footworks is also organizing a lot of road trips to Malaysia!