If you have a boy in your home, you will likely go through the same stench..
Yucks.
Our Kiddos can aim, but they sometimes choose to aim for the toilet paper, anti-slip mat or the buckets @#$@#
Above picture taken from http://www.clker.com
In twilight, when Wei wakes up to answer the Call of Nature, he has mistaken our poor
dustin
for toilet bowl before. Is Wei so tired :p
Poor
dustin
, poor daddy, who needs to mop the floor.
Maybe Daddy need to draw a bull's eye on the toilet bowl?
Or send boys through sniper/marksman course to aim into the toilet bowl?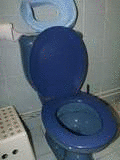 Now, we know why some public toilets are still dirty, after countless campaigns.
We need one more
generation
to change mindset of Singaporeans, treat toilets as our own.
Meanwhile, you can share your kiddo's toilet culture with us :)
http://www.postersonline.com.sg/posters/